About
Will Higman Motorsports specializes in international off road racing, cross country rally, professional motorsports management and logistics. If you would like to know more about Will Higman Motorsports please view our company brochure and contact us today!
Company Profile
History
My first off road racing experience took place in 1981, at the SCORE Baja 1000, where I was to be a co-rider in a Raceco Unlimited Class 1 car. Wow, what a crazy ride that was for my first race out of the box. To this point, I had only raced motorcycles but had never ridden in a four wheel race car. At 19 years old and at 155 lbs soaking wet, I made great "meat in the seat."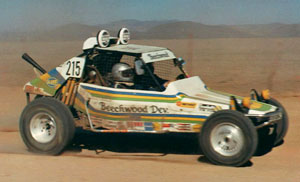 Having grown up racing motorcycles I was naturally hooked, but I think more so with the idea of controlling my own race car. Opportunity knocked for me as a driver in 1982, when Saddleback Motorcycle Park started a short course series for off road cars, this venue was an awesome learning experience for me in terms of getting up to speed fast. In short course racing you have to go 110% from the drop of the green flag and learning car control through tight racing conditions was paramount for me.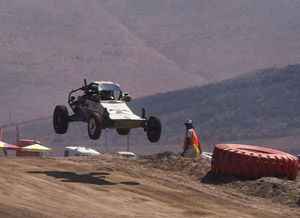 In 1983, I was offered a ride in Class 9 car at the legendary Mint 400 which took place in Las Vegas. In those days, a Class 9 car was an unlimited suspended buggy with a single port 1550 CC VW motor. I did my job driving the last 200 miles of the race and just after dark coming out of the Valley of Fire I came across the finish line at the Las Vegas Speedrome. It was great to finish my first desert race as a driver!
After many years riding motorcycles my father, Jerry Higman became interested in racing cars and together we would build a race car in 1985. I say we built a car, but what we were really building was a team. Actually, we hired Bob Neth to build us a state of the art Class 1-2/1600 car and yes, this was a great decision. This car built by Bobby would set the benchmark for all of the 1600 cars being built for the next few years and beyond. We had incorporated great new features, like a little more wheelbase and power steering to name a couple, what a difference.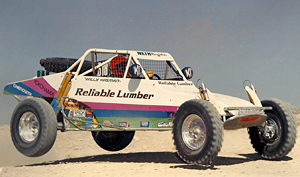 In 1986, our first full season of the SCORE/HDRA racing series, we ended up 2nd in points to the overall points champion. This same year I was nominated for "Rookie of the Year" along with Robby Gordon and Rob MacCachren, what an honor this was for me.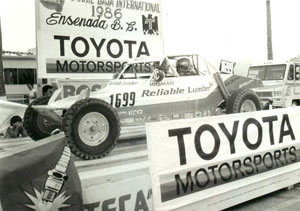 For the next several years my father and I experienced the highs and lows of racing we had great success doing it "our way" which included building our own engines in house and always trying to build a better, faster mouse trap.
In 1990 I married my wife Kristin and she really enjoyed the races, especially when she was given an opportunity to ride in the car. I will never forget sliding off the road together coming into Valle De Trinidad while leading the Baja 500. (Kristin Higman riding shotgun below)
After many years racing a full eight-race schedule we throttled back to competing only at the high entry and high profile races and continued this practice through the mid 1990's. During the late 1990's I took a break from racing and started raising my family.
The millennium would mark a new fresh start and a new focus on racing. My father being a great team builder assembled a veteran group of racers to compete in the Baja 2000 under the moniker of Pedos Viejos Race Team or Old Farts! The group hired Derek Kreger to build a brand new Score Lite Class 12 car for the race and thanks to the exceptional design and attention to detail by Kreger Fabrication the car finished the special 1726 mile commemorative race.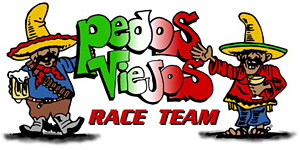 The core Baja 2000 group fizzled after this race but a fire was lit under Jerry and me. In fact, we decided to race the car at the very next race which was the 2001 San Felipe 250. This was my first race back in the driver's seat after quite a few years and we were very happy to finish the race near the top of our class.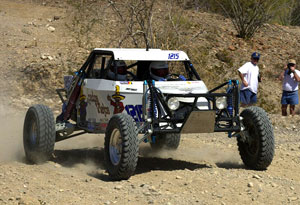 Later that year, we (Jerry and Will) decided once again to go back to racing full time and we hired Kreger to build a Class 10 Car. In 2002 we would campaign the car in the newly formed Pro-10 racing series and the full SCORE International desert series schedule, our accomplishments that year were great. I was lucky enough to finish my first "solo" attempt of the Baja 1000 which ran from Ensenadato La Paz (1013 miles) and we also finished 2nd overall in the Pro-10 point's championship. (2002 Baja 1000 finish line photo below)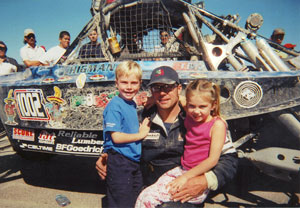 As the competition kept climbing we felt the need to build yet another car in 2004 because our goal was to win the Baja 1000 but to this point our best finish was second place in 2003. This new car by Kreger would have a six speed sequential transmission and a Wik's Racing Honda engine. Our speed definitely increased with this package and everyone enjoyed the new Crocodile paint scheme. Over the next several years we managed one stateside win along with many podium finishes, however the big ones slipped through our fingers again with multiple second and third place finishes at both the Baja 1000 and Baja 500.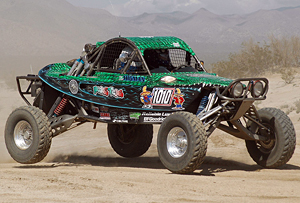 2006 would be another transition year with Jerry hanging up his driving shoes and me becoming a member of Team Dakar USA in which I was brought on board to compete in the 2007 Lisboa Dakar Rally in a T-4 Race Truck. It was a very proud moment for me after 15 days of racing when our three man team crossed the finish line in Dakar Senegal, Africa. We are now permanently in the history books as the first American team to finish the Dakar Rally in the T-4 class.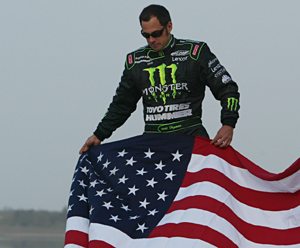 Current
To this day, after 30 years of racing and 115 starts in an off road race car, I am committed to racing at the highest level and I enjoy every minute I spend managing my racing program.
Please visit the News Page to get all the current and archived updates since 2007.
Will Higman Bio
Born: 1962
Married: Kristin
Children: Matilda, Jerome
Residence: Newport Beach, CA
Hobbies: Racing, Fishing
First Race: 1981 Baja 1000
Favorite Race: Baja 500
Racing Series: SCORE International
Contact
Will Higman
PO Box 191
Huntington Beach, CA 92648
info@willhigman.com